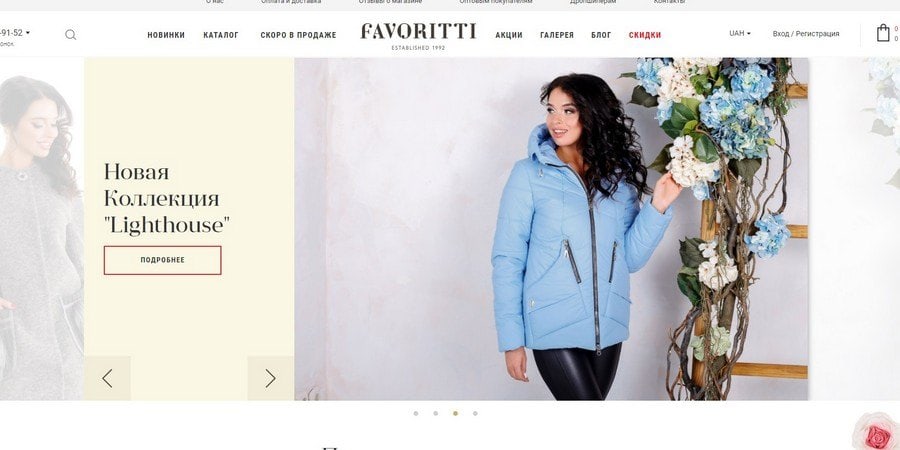 Favoritti
Women's clothing wholesale from the manufacturer Favoritti
Favoritti clothing factory is an officially registered trademark in Ukraine, started working in 1992. The key goal of the brand was the desire to offer a worthy alternative to the flow of low-grade things coming en masse from abroad.
TM "FAVORITTI" - our answer to Italian brands
Over 25 years of continuous development, improvement of production facilities, establishing contact with suppliers and customers, Favoritti has managed to achieve its objectives. The quality of Favoritti products is beyond doubt. It is confirmed by positive reviews from thousands of satisfied customers. The company uses only high-quality fabrics and accessories from the world's best manufacturers for tailoring.
Make-up and hairstyle certainly color a girl, but it is fashionable clothes that reveal character and individuality. In the collections of Favoritti you can find the clothes that will give you a bright mood:
Elegant outerwear: autumn and winter coats, jackets and vests.
Classic trousers, business skirts and comfortable knitted knitwear.
Light blouses, elegant dresses and children's clothing.
All this and much more can be viewed in the catalog on the official website of the manufacturer.
Order clothes from Favoritti!
Since wholesale sales occur directly from the manufacturer, without huge margins, it helps to develop an individual scheme of cooperation with both wholesale and retail buyers. The company cooperates with responsible transport companies that value their reputation. We ship the goods on the day of payment.
You can order the thing you like, or view the full catalog on the official website of the manufacturer. All contacts and necessary information about the manufacturer are listed at the bottom of the page. We are open to any suggestions from your side. Contact us right now.
☎

+38 093 671-91-52; +38 098 343-75-42

favoritti.com@gmail.com

https://favoritti.com