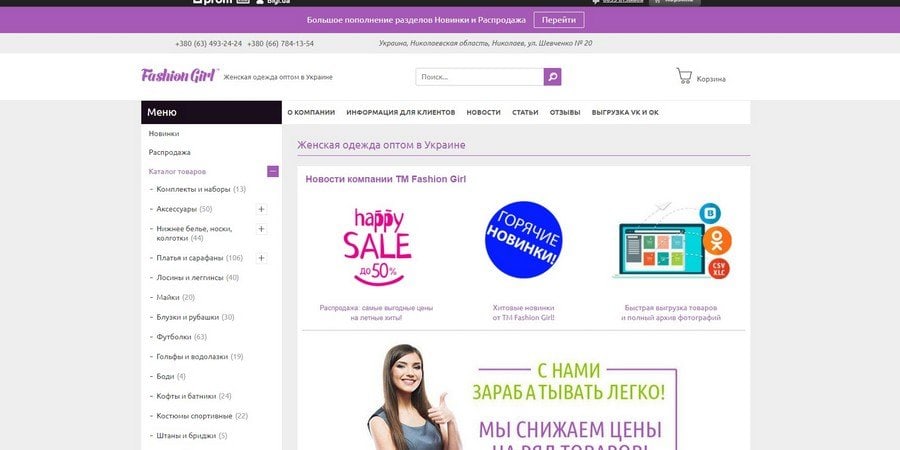 Fashion Girl
Wholesale clothing from the manufacturer Fashion Girl
The Fashion Girl brand is an officially registered Trademark of fashionable women's clothing in Ukraine.
Fashion Girl is a Ukrainian manufacturer of women's clothing, as well as a well-known supplier who has earned the trust of many customers. If you are still looking for the best conditions and prices from the manufacturer - you have come to the right place.
Fashion Girl stylish clothes at affordable prices
The catalog has everything that modern fashionistas want – dresses and sundresses, skirts and blouses, jackets and hats, leggings and leggings, T-shirts and T-shirts, and much, much more. All products are always in stock. The sizes of the models fully correspond to the size grid: from 40 to 50. And in some categories there are also battle clothes - from 52 to 56 sizes.
All products are sewn from high-quality materials that meet the standards. We use high-precision equipment so that the size of the product coincides with the dimensional grid. Moreover, all models are sewn taking into account modern fashion trends, which will allow you to always look like from the Milan show. In our catalog there are:
Comfortable casual clothing: knee socks, sweaters, leggings, leggings, pants and breeches.
Stylish clothes for business women: suits, skirts, elegant dresses, trousers and blouses.
Shoes, accessories, things for home comfort and much more.
Terms of cooperation and purchase
Fashion Girl products are easy to sell and earn. We offer cooperation to both wholesale and retail customers. As manufacturers, we give favorable wholesale prices for the goods. All goods are promptly and quickly delivered to any point in Ukraine and the CIS. We want to give money to our customers. Start earning today with TM "Fashion Girl".
You can buy goods at retail and order large batches on the official website of the Fashion Girl manufacturer. All contacts are provided at the bottom of this page.
☎

+38 063 493-24-24; +38 066 784-13-54

priem.zakazov.fashion@gmail.com

https://fashion-girl.ua