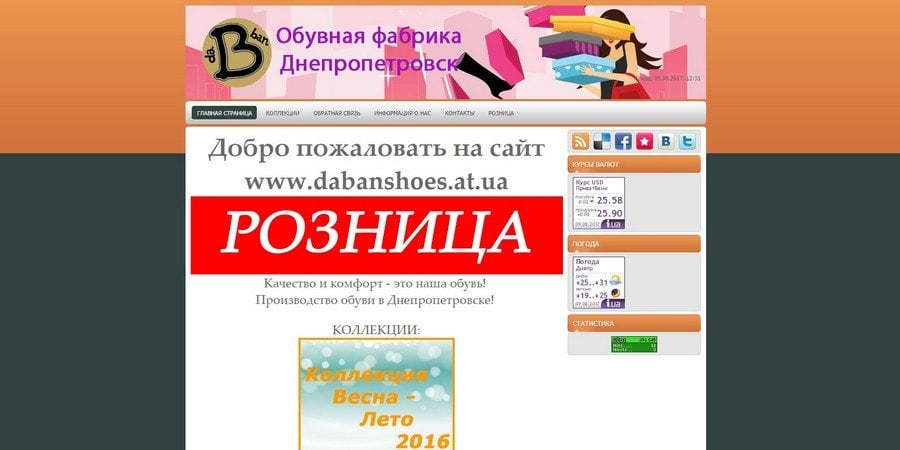 Daban
Ukrainian manufacturer of wholesale shoes Daban
Web page dabanshoes.at.ua It is the official website of the Ukrainian manufacturer Daban.
Daban is a Ukrainian brand for the production of stylish shoes. Daban has been working hard in this direction since 1998.
Women's shoes at an affordable price
Shoes are made exclusively from high-quality natural materials using modern wear-resistant soles. All models meet modern quality standards and are perfectly worn. Also, designers work hard to make shoes beautiful and relevant.
The company manufactures casual shoes for the general public. A wide range of women's shoes is constantly updated depending on the fashion trend and the needs of customers. Collections include: boots, boots, ankle boots and shoes. Shoes from Daban combine several key advantages - convenience, practicality, excellent quality.
The products have competitive prices designed for a wide range of buyers. The shoes are guaranteed. We work with the availability of a warehouse and under the order. A very wide selection of skin colors. Under your individual order, the company will produce shoes with the color scheme you have chosen. Delivery in Ukraine is possible.
How to order shoes from Daban
The factory offers cooperation to both wholesalers and retail buyers. Thanks to direct communication with the supplier, without numerous intermediaries and large margins, it is possible to create an individual scheme of cooperation that is beneficial for all parties.
An online store is a great opportunity to make a purchase without leaving home, because such a purchase saves you time and money. You can order shoes from Daban from the manufacturer. The address of his website and contacts are located below.
☎

+38 096 558-83-31; +38 063 252-99-20

dabanshoes@gmail.com

http://dabanshoes.at.ua