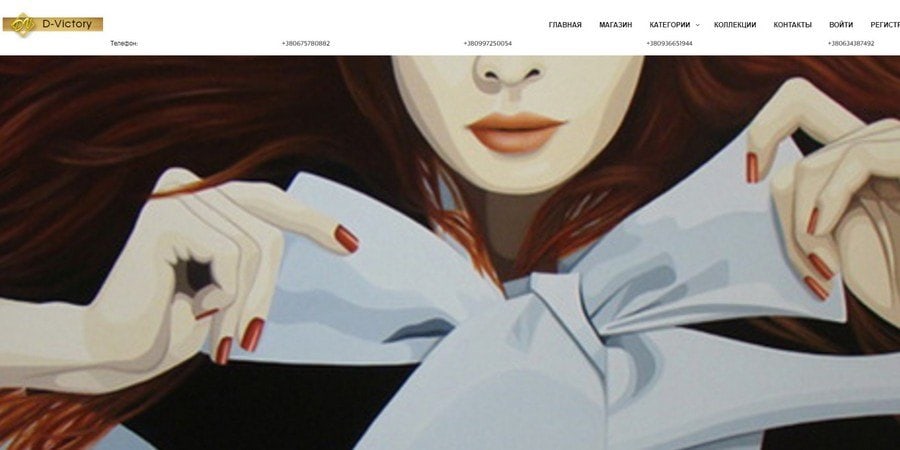 D-Victory
Wholesale Ukrainian manufacturer D-Victory
d-victory.com - the official website of the manufacturer of women's clothing, the D-Victory sewing factory, and an online store.
The D-Victory trademark is a Ukrainian brand of stylish women's clothing, founded in 1999 in the city of Kharkiv.
Since its foundation, the company has been constantly keeping up with modern fashion trends and pleasing customers with new models. Collections are updated twice a year. The sewing factory is proud to produce high-quality clothes that are perfectly worn and do not lose their properties even after repeated washing. D-Victory is a mix of high-quality materials, fashion trends and affordable prices.
Everyone wants to look stylish and beautiful, but at the same time not to spend a lot of time looking for fashionable things. The D-Victory online store solves this problem. Here you can order good-quality outerwear (jackets, raincoats, coats, etc.), blouses, dresses, sundresses and tunics.
Where to buy D-Victory
It has become very easy and simple to buy a coat, jacket, raincoat, windbreaker in the online store. You can purchase the desired item on the manufacturer's website. All the necessary information is located at the bottom of the page.
By placing an order in the store, you get a number of advantages and save money and time. After all, you buy goods directly from the supplier, without intermediaries. On the website you can buy women's clothing wholesale and retail from one of the best clothing companies in Kharkiv. Delivery to any city, to your home or to the nearest branch of the delivery service.
The D-Victory store in Kharkiv offers women's outerwear of high quality fabrics, natural fur, modern style, affordable prices wholesale and retail. The company offers a huge selection of female and youth models. You will feel cozy, warm and comfortable in our products.
☎

‎+380 67 578-08-82; ‎+38 093 665-19-44

de.viktory.shop@gmail.com

http://d-victory.com.ua