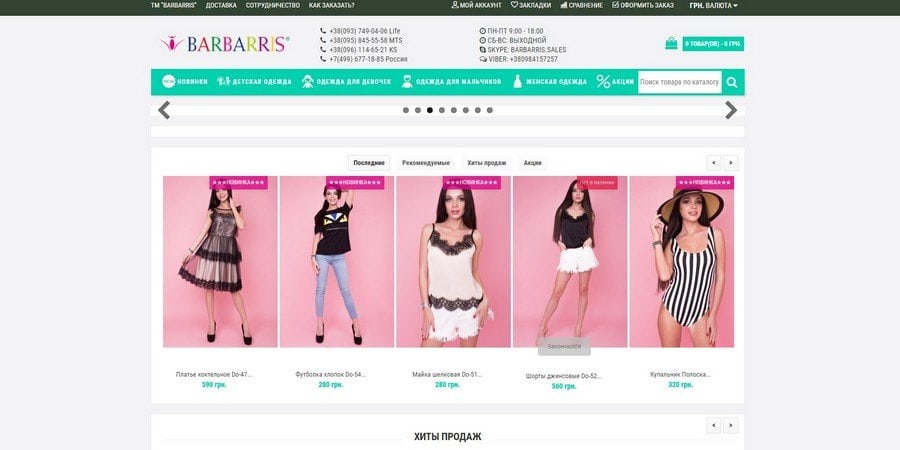 Barbarris
Clothing wholesale from the manufacturer BARBARRIS
barbarris.com It is the official website of the BARBARRIS Trademark.
The trademark BARBARRIS is the official Ukrainian brand in the city of Kharkiv.
TM BARBARRIS is a wholesale online clothing store from the manufacturer in Ukraine. Our main rule: convenience and practicality of things. Therefore, we use high-quality, pleasant fabrics and durable accessories for our products. The manufacturer's clothing is updated every season, new arrivals are held monthly.
We specialize in tailoring and selling stylish and fashionable things for the whole family.
When buying things at BARBARRIS, you work directly with the supplier. This makes it possible to order things in bulk without price surcharges. Direct communication with the production allows you to develop an individual scheme of cooperation and adjust the conditions of subsequent deliveries for the development of partnerships.
We have two clothing lines: for women and for children.
With their appearance, women express their individuality. In the outfits and images you can read her sense of style and character traits. And so, women's fashion clothing in our collections:
Airy romantic blouses. Warm sweaters and cardigans.                                                                                                                 
Comfortable trousers and leggings. Elegant dresses.
Stylish accessories.
When buying children's clothes, I want to trust the quality 100%. BARBARRIS is a factory quality product made of good materials. Our children 's collection includes:
Outerwear. Jackets for boys and girls.
School uniform. Casual clothes. Stylish and comfortable styles.
Accessories. Socks, tights and other necessary things.
Contact information of Barbarris
BARBARRIS is a fashionable clothing where everyone will find something for themselves. Our manufacturer in Ukraine cares about the high quality and durability of products. All our products, all our models are very comfortable to wear and pleasant to the touch. Well, the most important thing is that with a wholesale purchase you get a good discount. You can order and purchase items on the manufacturer's website. All information and contacts are provided below.

☎

+38 095 845-55-58

info@barbarris.com.ua

https://barbarris.com