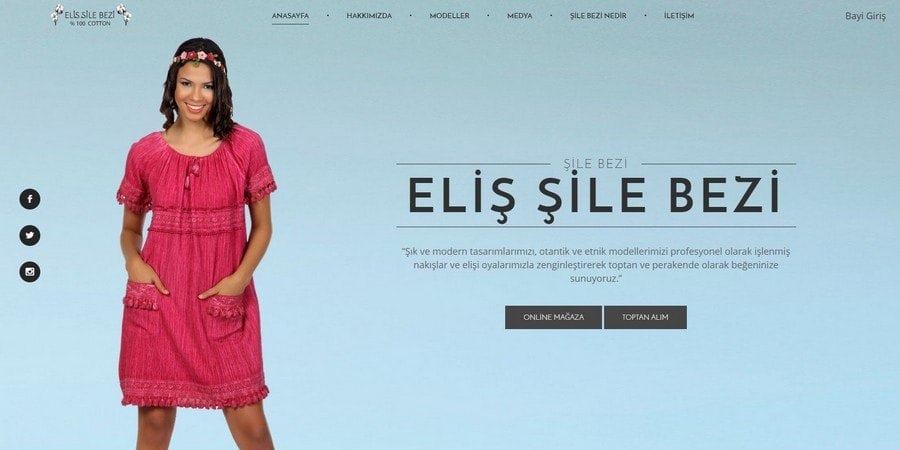 Eliş Şile Bezi
Textile products from Şile
Eliş Şile Bezi is a Turkish fashion brand. The company has 20 years of experience in the textile industry. Every year for 12 months it maintains continuous production of its products and then sends part for export. Half of the finished product is sold in the domestic market of Turkey. Outside of Turkey, the company has 200 sales points in different countries.
At the moment, the company exports 25% of its products to foreign countries, such as the EU, USA and CIS countries.
Original clothing at an affordable price
Eliş Şile Bezi produces three clothing lines, for men, women and children. On the catalog pages you will find both stylish basic and extraordinary accent pieces. Dresses, T-shirts, tunics and trousers made of natural materials, decorated with embroidery - a feature of the brand.
The company's task is to provide young people with stylish clothes at the lowest possible prices for production. The online store works directly with the buyer, so prices are affordable. Moreover, we offer the purchase of fashion items in bulk, which helps to save money even more. Direct communication with the production allows you to develop an individual scheme of cooperation and adjust the conditions of subsequent deliveries for the development of partnerships.
Eliş Şile Bezi – where to buy
You can get acquainted with the product range and purchase the necessary things on the manufacturer's website. The website works in Turkish and English, which simplifies the purchase process. You can find the website address and manufacturer's contacts just below on this page.
Eliş Şile Bezi is for those who appreciate elegance, uniqueness and style.
☎

+90 216 336 53 03

elis@silebezi.com.tr

https://www.silebezi.com.tr