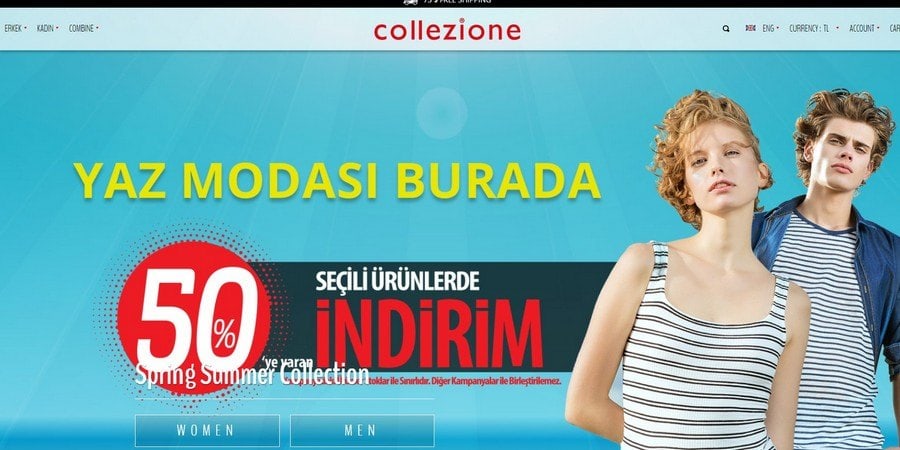 Collezione
The Collezione brand is one of the leading textile industries in Turkey. The company started its journey in this direction in 1987, opening its first store in Bakırköy.de.
Collezione, a leading clothing company in the affordable fashion industry
The company has become very popular in the field of wholesale and retail trade in a short time. In 2015, the company received an award as a leader in the Turkish market and one of the most recognizable brands. The company continues to develop its brand, working to improve the quality of production and information infrastructure. For 27 years of work, Brad has opened 2,200 clothing outlets, 100 domestic and 55 foreign representative offices, where he became one of the largest leaders.
Collezione stores are distinguished by a wide range of stylish, up-to-date clothing. The clothes are designed for young people, so the models correspond to modern trends and trends. In addition, the clothes are made of high-quality materials and durable accessories on high-precision equipment, which makes it possible to make things not only beautiful, but also durable.
All high-quality products can be bought at affordable prices, because the sale takes place directly, without resellers and huge margins. Moreover, you can make a purchase of things in bulk, which will help significantly reduce the overall cost of the purchase. Direct communication with production allows you to develop an individual scheme of cooperation. The company offers cooperation to both private entrepreneurs and wholesale suppliers.
Where to buy Collezione
Online store Collezione produces two clothing lines: for men and women. Flipping through the catalogs, you will find everything you need, from outerwear to casual outfits.
You can get acquainted with the assortment in more detail and purchase products on the official website. All manufacturer's contacts are located below.
Collezione always monitors the quality of its products, with this quality it has won a leading place in the clothing sales market.
☎

+90 212- 447-12-12

info@collezione.com.tr

https://www.collezione.com