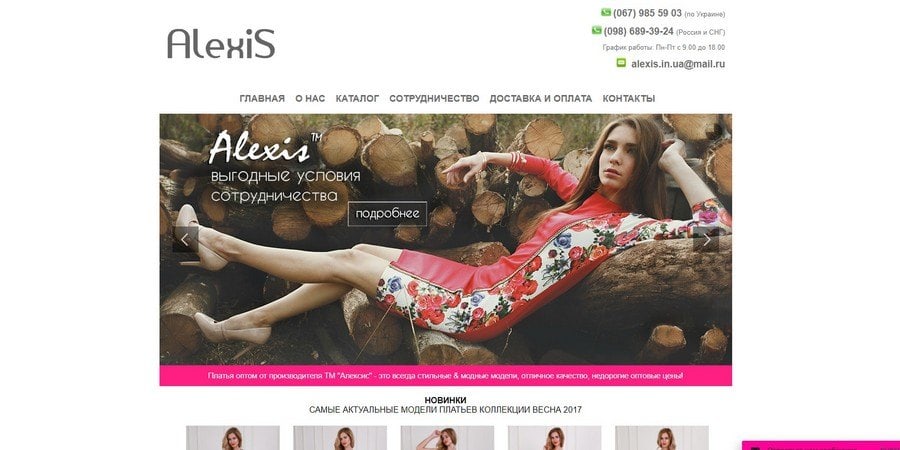 Alexis
Fashionable clothes from the Ukrainian manufacturer ALEXIS
alexis.in.ua - the website of the Alexis online store, where you can find a large selection of unique women's clothing from a Ukrainian wholesale manufacturer.
ALEXIS is an officially registered brand of women's clothing from a Ukrainian manufacturer. We work in the city of Khmelnitsky.
ALEXIS - fashionable clothes at an affordable price

ALEXIS is one of the first-class sewing enterprises. We have our own production, our catalog is constantly updated with fresh novelties, and we also provide excellent prices. Our team works every day so that when you visit the site you can see stylish and feminine things. What is the secret of the constant demand for products? The answer is simple — we work according to the formula of 5 components: good fabric and accessories + interesting design + verified patterns + high quality tailoring + low price.

We try to do everything possible to make it convenient for our customers: delivery of the finished order within 4 days, a selection of products is always available, regular updating of the assortment. Alexis understands perfectly well that a woman's mood depends on her outfit, so we create:
feminine dresses and delicate blouses
beautiful suits and bombers.
soft cardigans and sweatshirts.
Where and how to buy from the manufacturer?
By buying in bulk at Alexis, you have the opportunity to save your money. After all, by purchasing wholesale lots of goods, you avoid numerous intermediaries, colossal markups, and also have a direct connection with the manufacturer. Direct communication with the production allows you to develop a special scheme of cooperation and adjust the conditions of subsequent deliveries for the development of partnerships.

We understand that you are facing a difficult task. But solvable. We will help you make a choice. Sewing company "Alexis". We are exactly the same wholesale manufacturers of women's clothing in Ukraine. Manufacturer's contacts and more detailed information are provided below.
☎

+3 067 985-59-03

alexis.in.ua@mail.ru

http://alexis.in.ua